Design Secrets to Getting More Value From Performance Dashboards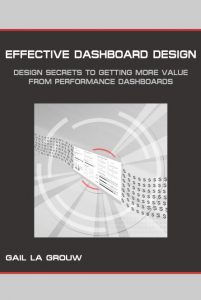 Effective Dashboard Design is about performance dashboards – taking the reader on a journey of converting typical reporting style dashboards into dashboards specifically designed to promote improvement in strategic performance.
This is not a book about screens for system monitoring or how to develop the backend data infrastructure. Both these topics are expert areas in themselves – this is a book about dashboards that are action focused to effectively improve productivity and increase profit.
EDD suits businesses of all sizes – with tips on helping medium-smaller businesses gain access to the powerful insight by using simple, inexpensive tools to create the latest innovations in graphs, designed specifically for higher performance outcomes.
You will learn:
How the brain sees a dashboard; using pre-attentive attributes to rapidly upload insight
How to apply Gestalt principles of design to dashboards
How to select more meaningful KPI that provide more insight than most KPI used today
Why selecting the correct graph is so important to providing a true performance story
The best way to get users involved
How to transform hardened report users to dashboard disciples
The key differences between different types of dashboards, and how to personalize dashboards for individual roles.
Practical tips you can apply today for instant dashboard improvement – to deliver greater insight in less time
The best way to use pre-packaged KPI and grid templates
How to transform your current dashboards into a performance management system
A step-by-step walk through of a real-life scenario dashboard design; learn how small tweaks to graphs significantly improve their output
A quick and inexpensive way to develop proformas
How to repurpose existing Microsoft Excel functionality into innovative graph formats
The limits of dashboard software, and how to work around them
The most common mistakes in dashboards; and how to avoid  them
How to integrate dashboards into SharePoint to get the best  value from your real estate
Considerations for small screens
Best practices in managing change with the deployment  of dashboards
Why standard user testing doesn't work for dashboards – how  to get more value from a simpler, new approach
Practical advice on managing dashboard design programs
This is not just a design book – it's a 'how to book'. It provides real-life examples, independent of the type  of software being used.
Dashboard design is not intuitive and goes beyond the way a dashboard looks. Effective dashboards perform well because they have the right KPI visualized in the best possible way. This book covers both of these elements. Starting from a proven theoretical background from visualization experts such as Edward Tufte and Stephen
Few – it then takes a step further into the detailed thought processes behind tweaking every graph.
In spite of strong opinions based on factual research, EDD is no 'listen to me, I'm an expert' kind of book. It gets to the raw heart of what makes a dashboard perform – not just look good. The design concepts in this book are founded on proven practices – not just personal preferences. They make sense. They constantly aim to give the end user more value. The advice given is immediately applicable to any dashboard, in any business.
Start improving your dashboards NOW!
GET PRINT VERSION
DOWNLOAD EBOOK VERSION